This is one of my favorite records in the whole wide world, Ma Jeunesse Fout Le Camp by Françoise Hardy. It's one of those little things I consider a treasure, just having the physical cd with that dreamy cover and the even dreamier back cover makes me glee with joy!
I love this record this much because it has been the hymn of my twenties (a soft flowering haze of kisses, divine fevers, nights of champagne, a secret life, romance, romance, the romance of my life. It brings to my head beautiful images of nymphs, summers in Paris, late night conversations with my dearest sirens, laughter (as loud and bright as possible). it reminds me of his dark eyes, of my skin agaisnt his, of caresses flowing out from the feble fragile bones of his hands, it makes me think of the Klimt girl ghosts in me, of golden seas of honey, of beauty in its purest, most graceful form).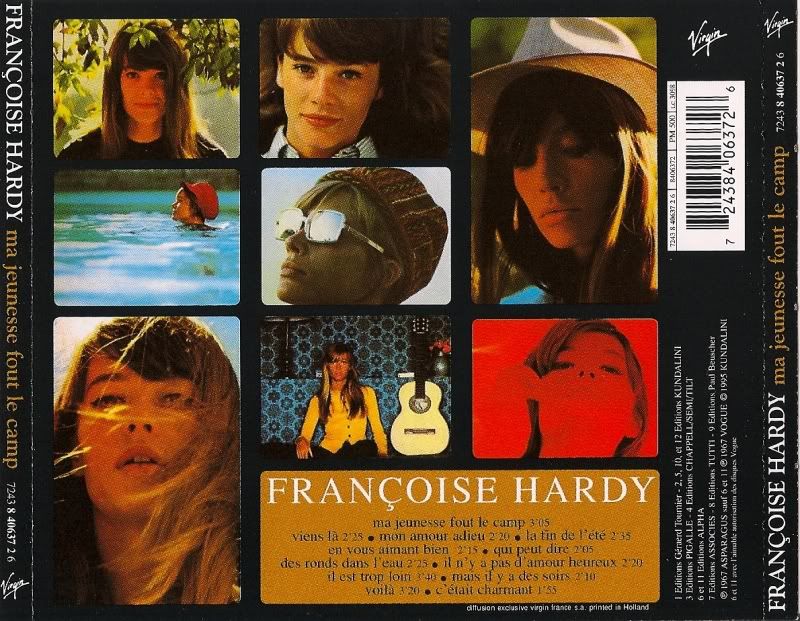 I
n this record, every song is a love song, Françoise's voice is so warm and haunting, there are violins and the sweet echo of spanish guitars, her glittering green eyes staring back at you from all the photographs, the tiny daisy between her lips like nectar…it's magical and delicate, it's the flower of youth..


Ma jeunesse fout l'camp
Elle a rompu l'amarre
Elle a dans ses cheveux
Les fleurs de mes vingt ans
My youth slips away
it has broken the rope
It has in its hair
the flower of my twenties