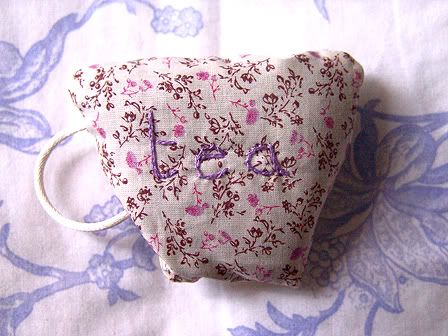 These past days I've gotten wonderful precious gifts from dear girlie darlings mine. One of the many things I truly enjoy of the girls I love is how throughtful and careful they are with every little gift, even the most simple of surprises is a feist, a wonder...a magnificent treasure to behold and adore.

The teacup pouch filled with lavander from the South of Frace and these other pretty things come from my dear darling friend Mathyld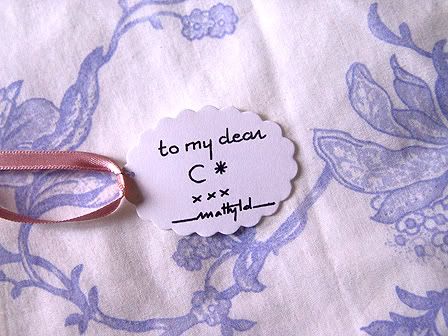 We met in Paris this past summer when she invited over to the most scrumptious brunch filled with rose shaped apple muffins, tea, fruit salad, fizzy drinks and homemade tiny pancakes. Ever since, we've been sharing thoughts and secrets over loveletters. Very soon, she'll hold a Super Vente where she will be selling her darling handmade crafts and some of my dear dollies.
http://encorepetite.wordpress.com/
http://ilovedollymix.blogspot.com/
At her blog, you can find more information about her Super Vente and I will post here the details and information about it very soon
Barry Lyndom tea by Miss Maple
(a black tea with violet, grapefruit & lotus flower)
Zorah organic face masks
A little loveletter with the most gorgeous handwriting
♥
These next letter and photographs come from my muse, model and dearest friend v*
She takes the most darling photographs, filled with dreamy intent and delicacy. Even if she will refuse to acknowledge it, she is a true artist and I adore her ever so
These are some of her first takes at film photography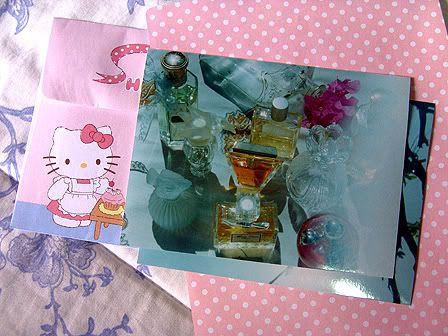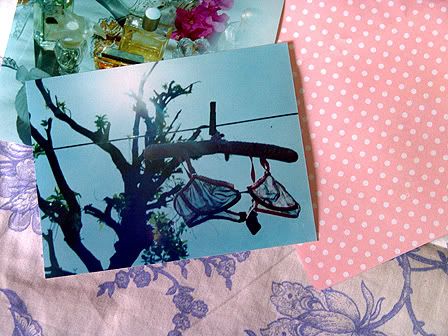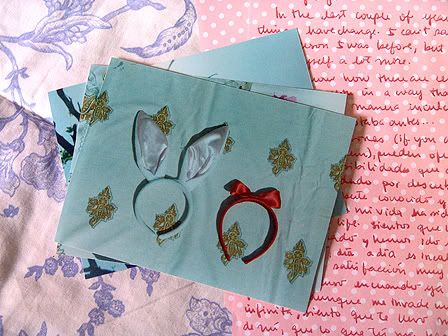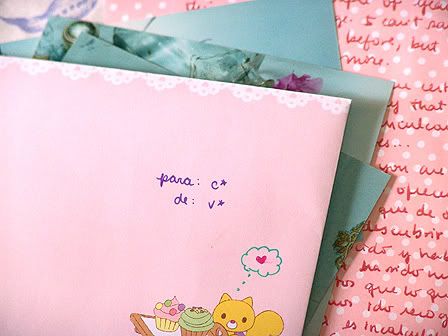 It means the world to me to be able to hold these beauties in my hands.
here is a link to her photostream
http://www.flickr.com/photos/cinnamonkite/
♥
These dear package came flying into my lap from my dearest sensualist Sara.
She melts my heart into pools of joy and sorrow with her rich and ever so warm photographs. I am proud to say she's been one of my most cherished pen pals and one of the few that has remained so since the very beginning.
She has a fabulous predilection for red. Everytime I see scarlet lips and burgundy wine I think of her.
Two of her magnificent photographs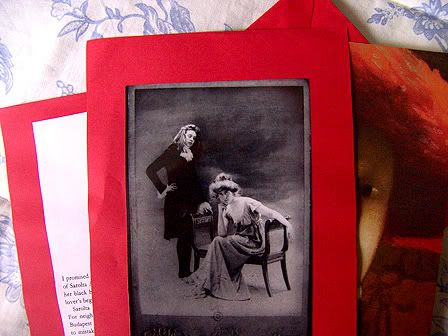 Wonderful antique photographs and a short story by Renée Vivien that made my heart stand still until I finished reading it
(I've read it over and over and over this weekend before going to bed)
Do look into her photography book and buy a copy for you and your friends,
They'll thank you for life.
http://saraberger.squarespace.com/
http://www.etsy.com/shop/hotelchaotica