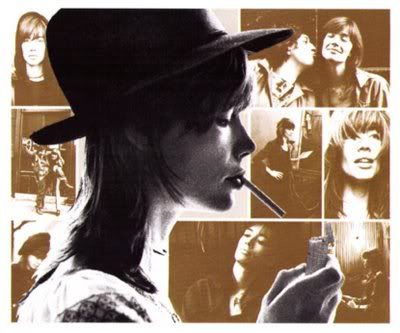 I spend way too much time thinking about the things I love, it's almost a past time by now yet I've always been like this and even though I do love to complain and whine, I'd rather keep my eyes on beauty.
I've been listening to this record for quite a long while yet recently it hasn't left my playlist for a very long while. It has become the hymn to every morning and the music to relief a broken heart (not by giving it sugary hope but by making it feel that someone else's heart once felt broken too). Without a doubt I could say most songs in this record are about a desperate, terribly passional kind of love and about the ennui and pain of long distance relationships. In recent years I've been deeply tangled in both so it is kind of helpless for me to identify with most of these songs.
I know I did not write them but I do dream that if someone else hadn't wrote them before me, I could have done so because they feel so close to home, and they describe with such incredible accuracy how I have felt in recent years.
je ne sais pas qui tu peux être

je ne sais pas qui tu espères

je cherche toujours à te connaître

et ton silence trouble mon silence
...
de ta distance à la mienne
on se perd bien trop souvent
et chercher à te comprendre
c'est courir après le vent
-
I don't know who you could be
I don't know what you are waiting for
I'm always looking to get to know you
and your silence troubles my silence.
...
from your distance to mine
we get lost quite frequently
and trying to understand you
is like running after the wind.
La Question was released in 1971 and it was the start of Françoise Hardy's most intimate and sparse work, I also believe that it marks the time where she stopped being a typical chanteuse française signing a more commercial work to showcase a further fascinating and mysterious approach to melodies and songwriting. After this record, her work became deeper and more compromised, she had always been someone who wrote about personal experiencies but I do believe that this record freed something in her. It wasn't a successful record on the charts yet I've read that she still regards it as one of her favorite recordings. I've also read that some of the most beautiful songs in this record were written about Jacques Dutronc (her beau at the moment and throughout most of her life) and their relationship in mind.
The musical arragenments lie on the skillful hands of Tuca (Valenzia Zagni de Silva) a wonderful and enigmatic brasilian guitarrist whose work is close to impossible to find. The music on this record has a marvelous dream-like allure where sometimes it's hard to pin point the magic of each instrument because all of them seem to be melted into the same wavelength of precious beauty. Guitars filled with raw emotion, watercolour-like strings and soft percussion make up a kind of romantic folk that I haven't quite heard from anyone else in the world. La Question is a Françoise Hardy record yet it is the record she could never make again.
Songs like this, you write only once in a lifetime;
Mer
mer
mon coeur pèse des tonnes
et mon corps s'abondonne
si léger à la mer
la mer pleure ses vagues
qui ont un goût de larmes
et s'en vont, éphémères,
se perdre en la terre
se fondre à la terre
...
dans la mer
magique, originelle
dans son rhythme essentiel
je voudrais que la mer
me reprenne pour renaître
ailleurs que dans ma tête
ailleurs que sur la terre
où sans mon amour
je ne peux rien faire
-
the sea,
my heart weights tons
and my body surrenders
very light on the sea
the sea cries its waves
that have taste of tears,
and they go, fleeting,
they get lost on the earth
they melt down on the earth
...
on the sea
magic, original
I would like the sea
to take me so I can be reborn
anywhere other than my head
anywhere other than the earth
where without my love
I had nothing to do.
Everytime I am feeling heartbroken and weary, I reach for this little oyster of beauty and sit quietly to listen to it, knowing that is indeed possible to create beauty while drowning in sorrow.
La Question (1971)